Vintage Italian Micromosaic Brass Upcycled Necklace, Colorful Antique Folk Micro-mosaic Necklace, Antique Brass Italian Micro Mosaic Jewelry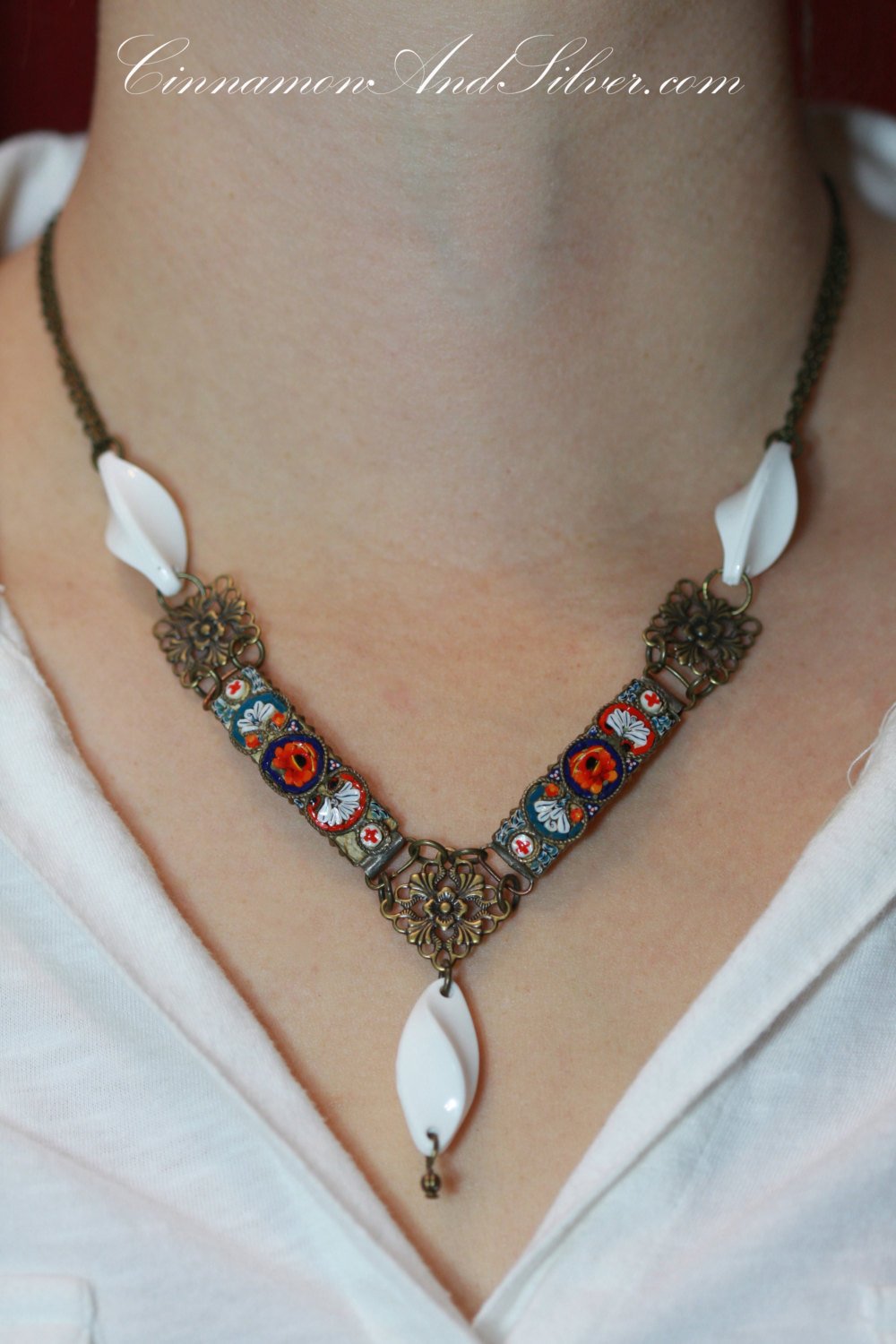 Vintage Italian Micromosaic Brass Upcycled Necklace, Colorful Antique Folk Micro-mosaic Necklace, Antique Brass Italian Micro Mosaic Jewelry
♔ Awesome recycled antique Italian micromosaic jewelry, features bright, bold colors in a floral folk design. Colors include white, red, blue, green, and a touch of black.

♔ The colorful bars are parts of a vintage style micro-mosaic bracelet, made in Italy from 1860-early 1900s, with Murano glass tiles. Both bracelet pieces are set in brass, with antiqued brass links, jumprings, and chain to match. The white beads are lightweight German acrylic. A special matching antiqued brass hook and eye clasp finish this very unique look!

*Because these pieces are genuine vintage items, one bracelet link (looking at the photo, the left bar) is missing a few tiny glass tiles from one small corner. Please view the images carefully.

**Because of the nature of this vintage piece, returns are strictly limited. Please consider carefully before buying!

♔ Micro mosaic jewelry was made in Italy for visiting tourists as souvenirs. These highly detailed, glass micro-mosaic pieces became very popular from the early 19th century on, and can be found in brooches, bracelets, rings, pendants and earrings.

http://www.collectorsweekly.com/fine-jewelry/micro-mosaic

♔ See more at: www.Etsy.com/CinnamonAndSilver

-----------------------------------------------

Need Help Deciding?
Here are some quick resources on necklace lengths, styles, and body types.

♔ Necklace Length Diagram: http://www.fabfatale.com/wp-content/uploads/2012/02/necklaceLengthDiagram.jpg

♔ Accessorize for Your Body Type: https://oyindoubara.wordpress.com/2013/05/17/how-to-accessorizing-for-your-body-type-necklaces/

♔ How to Choose Necklaces to Work with Your Neckline: http://www.insideoutstyleblog.com/2013/04/how-to-choose-necklaces-to-work-with-your-neckline.html

-----------------------------------------------

♔ Handmade jewelry are gifts to be treasured. My items can be completely customized to reflect your individuality. They are quality assured, far less wasteful in our effort to reuse materials, and involve highly personalized, friendly customer service. Want a conversation piece? My top customers often excitedly relate to me all the compliments and attention they get from wearing my designs.